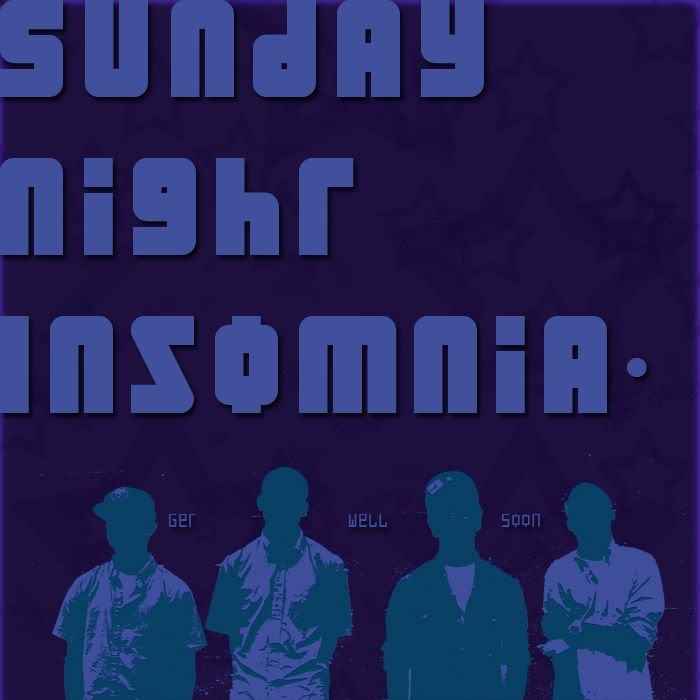 Click the image to download.

I finally decided to put what we've been doing in a cohesive collection. If you've been following the blog (
like you should've
), you probably heard a good amount of these songs. If you haven't, welcome to Get Well Soon. Everybody has experienced that feeling on Sunday night when you can't go to sleep because you slept in on Saturday and Sunday morning after a full night of partying and
getting wasted
volunteering at the orphanage. It's what we call Sunday Night Insomnia. So we decided to start releasing tracks for those that stay awake, while
the losers
everyone else is enjoying a good night of sleep. Here's 16 tracks for the niggies and the bitties, which includes some unreleased isht, brought to you by the good folks at Get Well Soon.
Tracklisting:
The Hey (Watup!)
Handprints
Arrival
It's All Good
Iron Mike
And I Always
10 to 3
BaDD(RealBad)RoleModels
iHate2sdays
Couldn't Tell You
Space Jazz
Too Cool
Car Crash 2K10
No Title Til Dawn
Used to Dream
This The Right One
L***m***** (Snippet)